Don't!
Don't!
Posted December 30th, 2008 at 2:49 AM by
Nina
---
Don't listen to JAM Project songs before you go to bed! 'Cause you won't!
They're so epic, that it's not quite the "sleeping" song. D: It gets me wired!
So I'm up at 4:30 in the morning trying to find Tenchi Muyo episodes.
What, how did we get to that?
Well JAM Project has Rica Matsumoto, and she voices Satoshi, and Satoshi is rivals/friends with Shigeru and Shigeru is voiced by Yuko Kobayashi and Yuko Kobayashi voices.....
Washu! Only my favorite character of my first perverted anime that I didn't get when I was younger. xD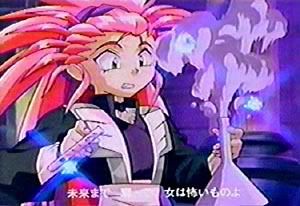 I also watched Utena when I was younger and didn't get that either, I just thought it was pretty. *o*
Now I still don't get all of it, and it's even prettier. Thus why I asked Ryushekia to make me a tag and avatar for that. I'm actually listening to background song that plays during that scene.
In the english Utena is voiced by Rachel Lillias, and doesn't sound like Misty or Jessie (what's this?! A voice actor with range?!) but I really don't want to listen to it. |D
Comments
Posted December 30th, 2008 at 1:25 PM by

Jorah

Posted December 30th, 2008 at 11:46 PM by

Nina
All times are GMT -8. The time now is
9:36 PM
.