Sammy's Final Fantasy Adventure
Little Wonders Educational Facility
Sammy's Final Fantasy Adventure
Posted July 21st, 2011 at 2:46 PM by
Maraala
---
So yea, I have decide to embark on a quest through mythical lands, fight mysterious creatures, and meet shady character. This quest is a playthrough of Final Fantasy I-VI (1-6 for those who have trouble with roman numerals *coughmecough*). I may end up doing all of them (as in 7 through whatever-number-the-series-ends-at), and then doing the side games (Tactics, Crystal Chronicles, etc, etc.) or i may do the side games in between each game. I'm starting off with FF1 (duh) and i am doing it on the GBA version that also includes FF2. Enough blabbing, i shall now post a picture of my team.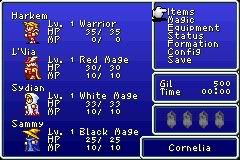 As you can see, I have a Warrior, a Red Mage, a White Mage, and a Black Mage. idk where the name Harkem came from, but L'Via and Sydian were inspired by one of the most awesome mods here on PC, the lovely Sydian. Sammy, of couse, is the name i use for practically everything. Sooooo here goes!
Comments
Posted July 21st, 2011 at 3:00 PM by

-Jared-

Posted July 23rd, 2011 at 3:16 AM by

Zeffy
All times are GMT -8. The time now is
9:17 AM
.