CarcharOdin's Blog of Stuff About Stuff Involving Stuff That Has to Do With Stuff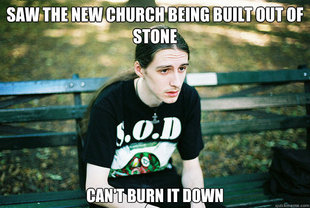 ^You could always try explosives...^
WARNING THE FOLLOWING BLOG MAY CONTAIN LINKS TO:
- KICKASS HEAVY METAL
- VIOLENT VIDEOS
- BIOLOGY STUFF
- PHOTOGRAPHY OF...WELL, STUFF, REALLY...
- CONTROVERSIAL CONTENT ON VARIOUS POLITICAL ISSUES AND WHATNOT
- VIDEOS CONTAINING FOUL (AND FOWL) LANGUAGE
- ANYTHING ELSE EXCEPT FOR PORNOGRAPHY BECAUSE THAT WOULD GET ME BANNED
YE HAVE BEEN WARNED.
Check for more than just price on Amazon
---
I asked for a Bond 50th Anniversary Set for Christmas. What my dad got me was a cheap ass Chinese sold set with a few shoddy discs and none of them able to play MI6 commentary.

Due to my extreme irritation with this, I have decided to give a quick guide for those of you who still have no idea how Amazon works.

Here's a quick run through on what the conditions of the used products actually mean:

Like New = Near mint
Very Good = A little banged up, but still decent enough for the price...maybe
Good = Broken
Acceptable = Broken
Unacceptable = Only a complete idiot of a seller would put this label on the product, so you never see it. Not that I'm implying that if you sell someone a faulty product (used or not) on purpose that you're not an idiot already, but at the very least, your honesty might dissuade me from wanting to land my fist in your face.

Memorize this well the next time you get something on Amazon. It'll save a lot of time, money, and irritation in the long run...especially if you happen to be getting something for me.

Better yet, go the next step and don't be a frelling cheapskate.
Comments