Guess what?
Guess what?
Posted January 12th, 2010 at 10:15 AM by
Sammi
---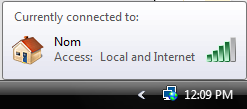 Ta-daaaaaaaaaaa! I actually have an Internet icon on my computer again! I'm so excited. 8D
...Photobucket gets more and more confusing every time I actually go to use it. No wonder I never upload anything anymore.
Comments
All times are UTC -8. The time now is
5:46 AM
.