From daily life in the astral planes to tutorials and creativity showcase, this blog documents the thoughts, feelings, and everything Kurui x3. Comments appreciated!
~Inaba Legacy~ :: 0.1 The Legacy Begins
Posted June 2nd, 2012 at 04:13 AM by
Kurui
---
~~**~~
Introduction
:
After doing some thinking, I decided to start
a SIMS 3 Legacy challenge
. Basically I'll create a custom SIM and throw him headlong into one of the cities and document how his life turns out, while presenting readers with a few choices here and there to advance the story. I plan to complete
at least 3 generations
before wrapping it up.
I'm not going to make a town full of custom characters. Because we'll meet some
interesting pre-set SIMs
along the way. I'll be playing in
the city of Bridgeport
(
the Late Night Expansion city
). For an in-depth look of Bridgport, its lots, and its residents,
click HERE
.
In this blog you'll just get to meet the main man of attention for
Generation 1 of the Inaba Legacy
.
~~**~~
Meeting Botan
:
Name
: Botan Inaba
Parents
(
not featured
): Orihime Inoue-Inaba and Kageroza Inaba
Sex
: Male
Age
: (
21
) Young Adult
Height
: 6'0 ft/ 1.8 m
Weight
: 136 lbs/ 61.6 kg
Hair Colour
: Green
Eye Colour
: Dark Brown
Traits
(
click on a trait to read more about it
):
Loves the Outdoors
,
Eco-Friendly
,
Green Thumb
,
Nurturing
,
Family Oriented
Star Sign
: Aquarius
Favourites
: Pop (
music
), Pink (
colour
), Vegetarian Dim Sum (
food
)
Lifetime Wish
: The Perfect Garden - '
Grow 8 Different Kinds of Perfect Plants
'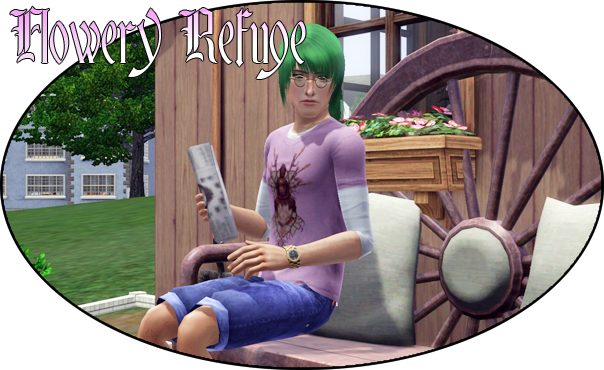 "In a place where there is very little green, I will bring back balance, life, harmony..."
Departing from his human mother and Mod Soul Father at the young age of fifteen, Botan (
his name appropriately meaning 'peony' in Japanese
) sat out to accomplish his lifelong dream of
bringing the living world back to its natural harmony
before "
mankind monopolized the Earth
". Even as a child he strongly believed that excluding nature and growing into a self-serving "
synthetic existence
" was mankind's greatest sin. Mind-mannered Botan had often accompanied his father on scientific endeavors although he would not necessarily agree with his father's ideals.
True balance could never be made by hands alone
. Nature itself gave birth to mankind, and so mankind would dwell in it, not
conquer and divide
itself from its very Mother.
Although he was a
content child
, he did not often show signs of heavy emotion, rather being at peace at all times without elaborate displays of passion. He seemed to always truly be in his own nirvana of sorts. Botan excelled in the
study of natural sciences
, using his immaculate love of nature to fuel his discoveries of remedies. He was extremely close to his family although he was an only child. When Orihime fell ill with an
"incurable" illness
, he began his journey in the world of the living to uncover a cure, researching alien plants and herbs while
spreading greenery to heavily settled areas
where very little respect was shown for anything outside of skyscrapers.
Although he has been unsuccessful in finding the miracle concoction for his mother's survival, Botan still persists. "
Nature has given us everything we need to survive. We just have to use our heads and make our own rulebook.
" When Botan first
set his sights upon the shining towers
of
Bridgeport
, he knew that his sweeping desire was to bring back the harmony of mother Earth to the forsaken place. "
People are not inherently evil, only ignorant. We have forgotten how to live
."
With his mind made up and a tugging feeling that his cure was to be found within the scarce amounts of nature that skirted around the humming streets, Botan settled in. He built himself
a small home surrounded by fragrant flowers
and bursting fountains. "
Let's paint the town green.
"
~~**~~
Coming Up
:
Tomorrow we'll get a peek at Botan's house and see how his first day plays out in his new city life. Will he be able to get accustomed to the hustle bustle as he gradually plants his garden sanctuary, or will the smog and late night lifestyle drive him out?

Comments