#illusoryexistence
CarcharOdin: Master of The Universe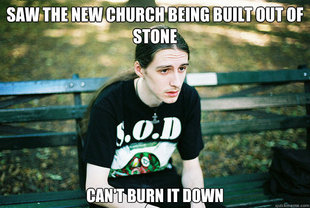 ^You could always try explosives...^
WARNING THE FOLLOWING BLOG MAY CONTAIN LINKS TO:
- KICKASS HEAVY METAL
- VIOLENT VIDEOS
- VIDEO GAMES
- BIOLOGY STUFF
- PHOTOGRAPHY OF...WELL, STUFF, REALLY...
- CONTROVERSIAL CONTENT ON VARIOUS POLITICAL ISSUES AND WHATNOT
- VIDEOS CONTAINING FOUL (AND FOWL) LANGUAGE
- ANYTHING ELSE EXCEPT FOR PORNOGRAPHY BECAUSE THAT WOULD GET ME BANNED
THIS BLOG CONTAINS OPINIONS GROUNDED IN TRUTH AND TO DISAGREE IS TO ADMIT YOURS IS INVALID
Posted January 25th, 2013 at 8:04 PM by

CarcharOdin

(#illusoryexistence)

Updated January 25th, 2013 at 9:04 PM by

CarcharOdin

---

And no, that reason is not to witness acts of public urination (even though according to a friend of mine, it's not a true trip to SC without seeing one). It is this reason:

Something every city should have.

Streetlight Records is an amazing place. It's heaven on earth. It's a record store made for me. It's got stuff from everywhere, not just stupid trendy Top 40 garbage that your local Wal-mart or Target...

There are signs when these civilizations come to an end

Views

2153

Comments

1
All times are GMT -8. The time now is
3:10 PM
.