#illusoryexistence
CarcharOdin: Master of The Universe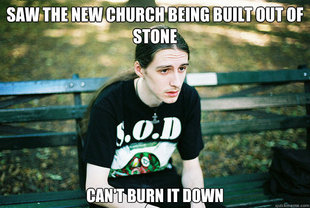 ^You could always try explosives...^
WARNING THE FOLLOWING BLOG MAY CONTAIN LINKS TO:
- KICKASS HEAVY METAL
- VIOLENT VIDEOS
- VIDEO GAMES
- BIOLOGY STUFF
- PHOTOGRAPHY OF...WELL, STUFF, REALLY...
- CONTROVERSIAL CONTENT ON VARIOUS POLITICAL ISSUES AND WHATNOT
- VIDEOS CONTAINING FOUL (AND FOWL) LANGUAGE
- ANYTHING ELSE EXCEPT FOR PORNOGRAPHY BECAUSE THAT WOULD GET ME BANNED
THIS BLOG CONTAINS OPINIONS GROUNDED IN TRUTH AND TO DISAGREE IS TO ADMIT YOURS IS INVALID
Posted January 15th, 2013 at 4:53 PM by

CarcharOdin

(#illusoryexistence)

---

I was a little iffy to post this in the forums, so I decided to post it here in my blog.

A conversation I had today with a friend of mine who immigrated from the UK to the United States, so as to get a little bit of a European output on the Second Amendment, on Gun Control, and gun violence and whatnot. For privacy reasons, I'll refer to him as "Euro" in this post.

Quote:

C.Odin:

Hey, [Euro] , got a question for you.

Euro: Sure!

C.Odin: Do you feel safe living in

...

There are signs when these civilizations come to an end

Views

1465

Comments

1
All times are GMT -8. The time now is
6:32 AM
.