Entries for January 20, 2013
CarcharOdin: Master of The Universe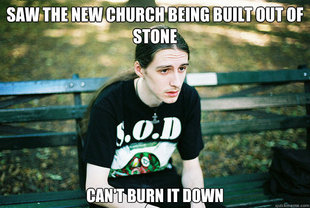 ^You could always try explosives...^
WARNING THE FOLLOWING BLOG MAY CONTAIN LINKS TO:
- KICKASS HEAVY METAL
- VIOLENT VIDEOS
- VIDEO GAMES
- BIOLOGY STUFF
- PHOTOGRAPHY OF...WELL, STUFF, REALLY...
- CONTROVERSIAL CONTENT ON VARIOUS POLITICAL ISSUES AND WHATNOT
- VIDEOS CONTAINING FOUL (AND FOWL) LANGUAGE
- ANYTHING ELSE EXCEPT FOR PORNOGRAPHY BECAUSE THAT WOULD GET ME BANNED
THIS BLOG CONTAINS OPINIONS GROUNDED IN TRUTH AND TO DISAGREE IS TO ADMIT YOURS IS INVALID
Posted January 20th, 2013 at 10:38 PM by

CarcharOdin

(#illusoryexistence)

Updated January 20th, 2013 at 10:51 PM by

CarcharOdin

---

"Prior to 1989, the term "assault weapon" did not exist in the lexicon of firearms. It is a political term, developed by anti-gun publicists to expand the category of 'assault rifles'."

- Bruce H. Kobayashi and Joseph E. Olson,

Stanford Law and Policy Review

More information here:

http://www.assaultweapon.info/

You hate, I hate, we all hate, everyone hates, and it all feels good

Views

638

Comments

3
All times are UTC -8. The time now is
5:45 AM
.