Entries for January 22, 2013
CarcharOdin: Master of The Universe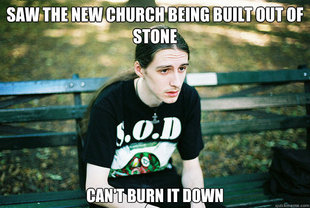 ^You could always try explosives...^
WARNING THE FOLLOWING BLOG MAY CONTAIN LINKS TO:
- KICKASS HEAVY METAL
- VIOLENT VIDEOS
- VIDEO GAMES
- BIOLOGY STUFF
- PHOTOGRAPHY OF...WELL, STUFF, REALLY...
- CONTROVERSIAL CONTENT ON VARIOUS POLITICAL ISSUES AND WHATNOT
- VIDEOS CONTAINING FOUL (AND FOWL) LANGUAGE
- ANYTHING ELSE EXCEPT FOR PORNOGRAPHY BECAUSE THAT WOULD GET ME BANNED
THIS BLOG CONTAINS OPINIONS GROUNDED IN TRUTH AND TO DISAGREE IS TO ADMIT YOURS IS INVALID
Posted January 22nd, 2013 at 5:14 PM by

CarcharOdin

(#illusoryexistence)

Updated January 22nd, 2013 at 7:29 PM by

CarcharOdin

---

Okay, so school started for me today. I got up at 6am for the first time in hell if I know.

First vertebrate history; we go out bird watching. Blue jays are awesome, but poison oak isn't. It's starting to spread to campus; they gotta do something about that. I can't help but admire the plant; it causes rashes like crazy, but that trait is how it thrives in an environment. I wish I had the ability to give rashes to something I touch, especially if I could choose which people who touch...

There are signs when these civilizations come to an end

Views

1726

Comments

1
All times are GMT -8. The time now is
9:16 PM
.