Entries for December 31, 2012
CarcharOdin: Master of The Universe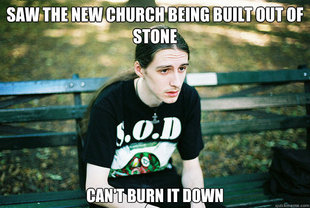 ^You could always try explosives...^
WARNING THE FOLLOWING BLOG MAY CONTAIN LINKS TO:
- KICKASS HEAVY METAL
- VIOLENT VIDEOS
- VIDEO GAMES
- BIOLOGY STUFF
- PHOTOGRAPHY OF...WELL, STUFF, REALLY...
- CONTROVERSIAL CONTENT ON VARIOUS POLITICAL ISSUES AND WHATNOT
- VIDEOS CONTAINING FOUL (AND FOWL) LANGUAGE
- ANYTHING ELSE EXCEPT FOR PORNOGRAPHY BECAUSE THAT WOULD GET ME BANNED
THIS BLOG CONTAINS OPINIONS GROUNDED IN TRUTH AND TO DISAGREE IS TO ADMIT YOURS IS INVALID
Posted December 31st, 2012 at 10:30 PM by

CarcharOdin

(#illusoryexistence)

---

First of all, let me give the customary shout to all the guys and gals and possibly hermaphrodites of PokeCommunity...


HAPPY NEW YEAR, PC!!!

Anyway, one of my Christmas presents this year was a new camera. Seeing as how I'm enjoying my new toy, I figured I should share the photos I take with it to the people I love and would kill for most on this earth. However, since that would be selfish of me to show them only to myself, I've decided to take the liberty of...

You hate, I hate, we all hate, everyone hates, and it all feels good

Views

610

Comments

2
All times are UTC -8. The time now is
6:55 PM
.