Entries for February 18, 2013
CarcharOdin: Master of The Universe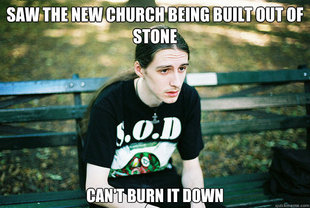 ^You could always try explosives...^
WARNING THE FOLLOWING BLOG MAY CONTAIN LINKS TO:
- KICKASS HEAVY METAL
- VIOLENT VIDEOS
- VIDEO GAMES
- BIOLOGY STUFF
- PHOTOGRAPHY OF...WELL, STUFF, REALLY...
- CONTROVERSIAL CONTENT ON VARIOUS POLITICAL ISSUES AND WHATNOT
- VIDEOS CONTAINING FOUL (AND FOWL) LANGUAGE
- ANYTHING ELSE EXCEPT FOR PORNOGRAPHY BECAUSE THAT WOULD GET ME BANNED
THIS BLOG CONTAINS OPINIONS GROUNDED IN TRUTH AND TO DISAGREE IS TO ADMIT YOURS IS INVALID
Posted February 18th, 2013 at 06:45 PM by

CarcharOdin

(CarcharOdin: Master of the Universe)

---

I've been listening to the soundtrack to a LucasArts adventure game called The DIG lately. If no one has ever heard of the game, I suggest you go

here

and buy it off Steam as soon as possible or so help me God I WILL eat your firstborn. Okay, I'm kidding about that, but seriously, it's a beautiful game.

Anyway, I've been listening to Michael Land's composition for the game for a while and I want to know of similar sounding music out there that I can get into. Wikipedia describes it...

Master of The Universe

Views

826

Comments

4
All times are UTC -8. The time now is
09:37 AM
.