Entries for May 2013
CarcharOdin: Master of The Universe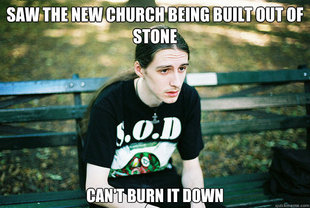 ^You could always try explosives...^
WARNING THE FOLLOWING BLOG MAY CONTAIN LINKS TO:
- KICKASS HEAVY METAL
- VIOLENT VIDEOS
- VIDEO GAMES
- BIOLOGY STUFF
- PHOTOGRAPHY OF...WELL, STUFF, REALLY...
- CONTROVERSIAL CONTENT ON VARIOUS POLITICAL ISSUES AND WHATNOT
- VIDEOS CONTAINING FOUL (AND FOWL) LANGUAGE
- ANYTHING ELSE EXCEPT FOR PORNOGRAPHY BECAUSE THAT WOULD GET ME BANNED
THIS BLOG CONTAINS OPINIONS GROUNDED IN TRUTH AND TO DISAGREE IS TO ADMIT YOURS IS INVALID
Posted May 18th, 2013 at 1:53 PM by

CarcharOdin

(#illusoryexistence)

---

I've recently made a number of posts in my blog that contain content a lot of people found very disagreeable.

I wanted to make this post foremost as an apology. I've been thoughtless, cynical, and furthermore a royal jerk.

Back on a forum I used to visit - Gaia - I would write these rants in my journal that were most just absurd joking and exaggerated opinions (keyword: exaggerated). Quite a few people got a real kick out of my writing and found it funny, so I thought...

There are signs when these civilizations come to an end

Views

1370

Comments

3
All times are GMT -8. The time now is
3:07 AM
.