After a little while of dying violently to a hoard of screaming Endermen, Craftrum is back with a vengeance! Join us at the PokéCommunity Minecraft Server for some adventures as you build a life for yourself and other PokéCommunity members in our big, wide world!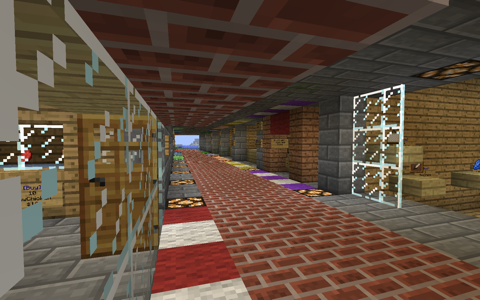 › What is Minecraft?
————————————————————
Minecraft is a sandbox game with RPG and FPS elements, where you can let your imagination run wild and build massive fortresses, epic monster grinders, community towns, or whatever your heart desires! For more information, visit
Minecraft.net
.
› How can I play with you guys?
————————————————————
By joining our server, of course!
First off
, you will need to download the latest version of Minecraft from
Minecraft.net
. Once you're up to date, under the
Multiplayer
menu in Minecraft, add or directly connect to this address:
craftrum.pokecommunity.com
› Are there rules?
————————————————————
Yes! Thankfully, we're trying to make sure they're clear to understand. So, to ensure that everyone has a fun, fair experience, please don't…
Destroy others' works
Respect other people's property - don't touch anything belonging to others unless they've allowed you to.
Beg for items, money, etc.
You're not obligated to get anything unless we say you can.
Use cheats i.e. flying, x-ray
While we may be unable to stop you, consider playing fair like everyone else.
Impersonate admins/mods
Don't claim to be an admin. Don't act like one either - the only ones policing the rules should be the admins or mods.
Advertise other servers or sites
Don't advertise. You may let people who know you know where you're going or link people to a funny video, but don't link just to get broad hits or activity.
Build 1x1 towers
1x1 towers are really ugly.
Build obscene structures
Needless to say, we don't need to see anything inappropriate. Be age-smart!
Ruin the landscape
Mountains are beautiful. Mountains blown up by TNT, ravaged with fire, or whatever else, are not.
Ask for admin favours
We won't do anything for you unless we're supposed to.
Abuse or disrespect others
Treat everyone right.
Spam the chat
Lines of garbage will result in a swift kick.