[Gen IV] Yet another RMT
Pokémon Strategies and Movesets
Post your team lineups, get your team rated or rate other teams, talk about lineups, talk about moves/movesets, strategies, etc. For general talk about the games, go to the respective Pokémon game forums.
#
1


March 1st, 2011 (1:04 PM). Edited March 2nd, 2011 by Ev Trainer X.
Your average insane gamer

Gender:

Male
__________________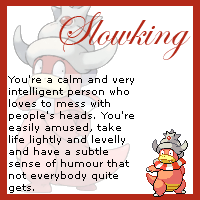 I'm also slightly insane.
White Fc:2322 9774 3726
I use freeze clause. Deal with it.
Quick Reply

Posting Rules

You may not post new threads

You may not post replies

You may not post attachments

You may not edit your posts

---

HTML code is Off

---
All times are GMT -8. The time now is
5:05 AM
.