Looking for EV trained lvl 100 Shuckle as well as some tms
Trade Shops
Need a very specific Pokémon bred or trained for your team? In this forum you can browse the vast collections of our most established traders!
New threads in this forum are to be approved by a moderator before they are displayed.
#
1


July 19th, 2008 (1:32 PM).
Trainer from beyond the stars!

FC:

IGN:

Location:

Los Angeles, CA
__________________
Diamond FC:on trainer card
I use Diamond for Battles!!!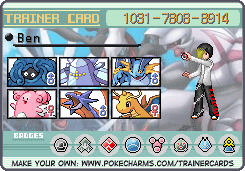 NO UBERS, SLEEP CLAUSE ALWAYS IN EFFECT!!!!!!!!!!!!
Platinum FC: 0903 8826 6646

Quick Reply

Posting Rules

You may not post new threads

You may not post replies

You may not post attachments

You may not edit your posts

---

HTML code is Off

---
All times are GMT -8. The time now is
10:39 AM
.