Im back!
The Welcome Lounge
New here? Stop in to the Welcome Lounge to introduce yourself. The members who hang out here can't wait to give you a warm welcome and help you discover all of the cool things you can do around the community.
#
1


April 20th, 2011 (02:06 PM).
What!!

Join Date: Apr 2009

Location: Australia

Gender: Male

Nature: Naughty

Posts: 95
__________________
Edison once remarked that "I am proud that I never invented weapons to kill". Because the electric chair isn't a weapon, and it doesn't kill people. It just helps improve their cardioneural functions. A lot.
#
2


April 20th, 2011 (03:23 PM).
Join Date: Nov 2007

Location: Skaia

Gender: Female

Nature: Naive

Posts: 18,499
__________________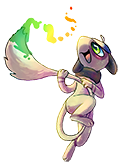 Roleplay Corner

paired to

seeker
Quick Reply

Posting Rules

You may not post new threads

You may not post replies

You may not post attachments

You may not edit your posts

---

HTML code is Off

---
All times are UTC -8. The time now is
09:23 PM
.