risaa. morse code for suckers
a blog whose relevance has no limits

What character type am I.
Posted November 15th, 2011 at 12:21 PM by
Chikara
Updated November 15th, 2011 at 12:35 PM by
Chikara
---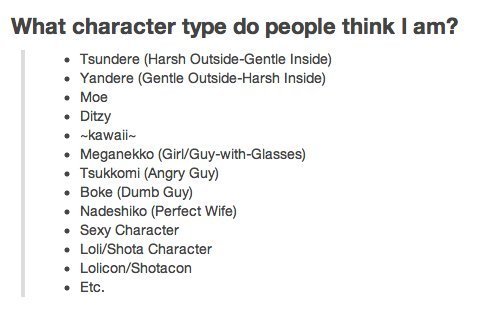 Saw it flying around tumblr, looked fun for PC. Do it up.
If you don't know how these work, basically you post it and other people answer for you.
What I got so far lolz:
Occupy Derse:
~kawaii~, duh.
viola:
i... yeah actually LMAO KAWAII
viola:
risachan >u<
Jamie:
...boke because you're stupid
MARA:
GENKI BUT... IT'S NOT ON THE LIST. ALWAYS GENKI.
annnanan:
perfect wife. i mean tsundere. i mean. kawaii.
p.s. I am the Shotaest.
Comments