Where:
- Random ramblings
- Cultural dissections
- Awards season coverage
- Pokémon
all come together to form a gigantic blob of nothingness and ZOMG!
Pics or it didn't happen (Part 4)
---
No, no, no. I haven't been meeting up with any more people from PC. That shipped sailed when I got on that bus in Delran, New Jersey. But a number of people have requested lots of piccies from the rest of my trip to the land of the rising sun... aka Japan. Most of them I've put up on my Facebook, and
here
's a link to the album.(*) Some of them, on the other hand, I've saved especially for PC. Lucky you!
For the most part, the pictures below were all taken in or around the Pokemon Centre Tokyo.
Firstly, the shop is surprisingly in the middle of nowhere, when it comes to Tokyo. It was easy to get to, but there was nothing particularly special about the location. The high-class shopping district of Ginza was about a mile away, as was the Imperial Palace in the centre of Tokyo. It's also not greatly advertised, so I found myself walking around the back entrance first of all:
When I encountered this lil' guy at the service entrance, I suspected I should keep looking in a different direction:
After finding the actual entrance 10 minutes later, I was greeted by a multitude of ridiculously chirpy (even for Japan) retail assistants who kept saying "Welcome to Pokemon Centre Tokyo" in Japanese to anyone who walked by.
As for the actual content: most of it was made up of plushies. Pikachu were the main ones, obviously, but there were actually a lot of Gen V critters. In particular, the legendary musketeers had a large section all to themselves. I think I visited the shop shortly after the reveal of Keldeo in CoroCoro and/or the new movie announcement, so there were additionally Keldeos everywhere. What DID surprise me, on the other hand, was this: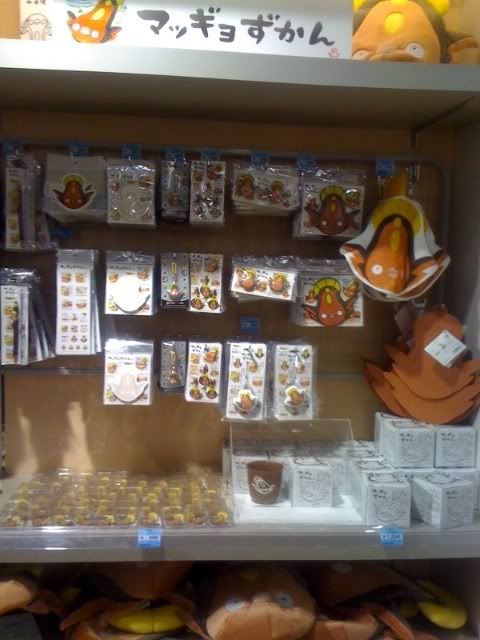 I assumed the love for Stunfisk only travelled as far as the confines of the internet itself... but, apparently the Japanese have just as much love (or misplaced affection... whatever you want to call it!) for the derpy fish as some members do here. It wasn't just here, either: in the Pokemon Centre Osaka - much easier to find but not as impressive - there was a similar 'Wall of Stunfisk' there also.
Apart from plushies, the main sellers seemed to be keychains of pretty much every Pokemon. Again, Gen V critters had the most shelf-space, but I believe you could have got a keychain of any critter you wanted, had you gone in the right day. My brother is now the proud owner of a Haunter keychain, and I managed to pick up a lil' something-something for myself:
I probably spent about 20 minutes in the shop in total. Any longer and I'd probably have to shoot myself, given that the Pokemon Centre music from the games was played on a loop for the entirety of my time there. As I mention on Facebook, I honestly don't know how the staff could remain so cheery (and not, you know, braindead) with that music blasting at them for 8 hours a day. Here's a lil' shot of one of the outside displays:
One final thing amused me on my Pokemon Centre visit. When I was leaving, I happened to be walking around one of the restaurants and saw a group of people all with their DSs out playing Pokemon.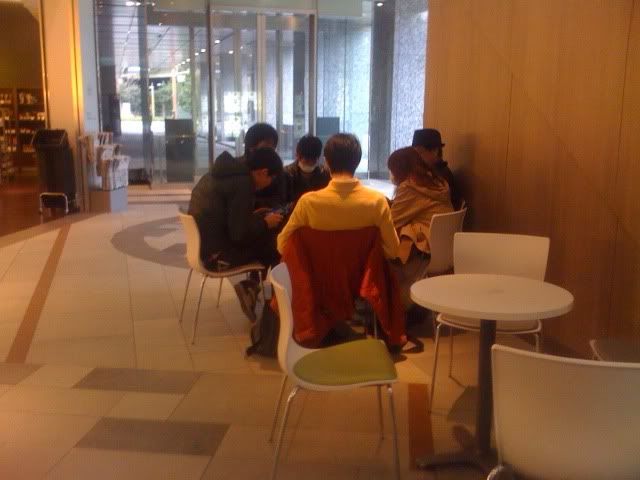 For all I know this might be completely normal everywhere in the world apart from where I live, but I've honestly never seen group Pokemon playing outside of people's houses. I wasn't 'surprised' per se (if there's anywhere to do it, it's outside a real life Pokemon Centre) but it still was notable enough in my mind to take a photograph of it. 'Refreshing' is probably probably how I would describe it.
So... yeah. Most of the rest of the trip is detailed in the Facebook album linked to up top. The only parts I didn't really photograph were my trips to Atlantic City (phone ran out of battery), Mt Fuji (horrible day to go - all foggy) and the Kyoto Manga Museum (cameras not allowed for copyright reasons). If you want to ask anything about the 'rest' of the trip, don't hesitate to ask.
(*) Unless I know you well (and knowing you well includes knowing your name) don't bother adding me as a friend on Facebook. I will reject. I've only made this album public so as to share it with people on PC; this is not an invitation for free love and friendship with everyone. I apologise if this seems harsh, but I don't want to wake up tomorrow morning to 50 friend requests from people I barely know.
Comments