Plushies<3 yay!
---
Introduction

To start my blog I will just have a quick intro! I am TheGr8 on PC, Smogon, and Skarmbliss so If you have seen me on there it's me! This is my first blog so stay with me :D Some of you know my IRL name as well

I love hockey, its a passion I have as well as playing video games especially Pokemon ! As for pokemon I am a HUGE VGC player which is Nintendo's official Pokemon tournaments, I've been doing it for a year and I just love the play of it and the social aspect! Also I had my best regional ever on April 15th, I came in 7th in Pink Flight, 15th overall out of 320 Master division players.
Plushies <3

Anyway onto the part of my blog! :D So after VGC Philly I decided that I needed more plushies! Especially if I went to Nationals for VGC. I decided to buy 3 plushies anyway even if I didn't end up going. I am also a HUGEEEE fan of Japanese plushies and pokemon stuff! I checked on Saturday and my time off from work was
APPROVED
for Nationals. After my regional everyone was asking me if I was going to Nats and I was really hoping I could and now bringing momentum from Philly to Nats. Let's get on with the plushies now that will be JOINING me in Indianapolis minus Terrakion I will explain the plushies once you see them!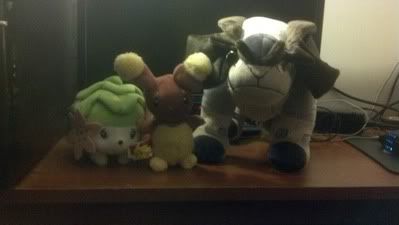 Terrakion:
My favorite legendary in 5th gen and ultimately ever :D It is a HUGE plushie, a protector plushie

Sydian was actually the one who helped me decided between two plushies, and Terrakion is quite expensive and I had the money now so I purchased it. I'm very happy with that! I will not be bringing him to Indy because it's huge, and I'd be better here.
Buneary:
What can I say, I'm a huge sucker for Normal types especially the ones in 4th gen. Anyone who knows me, knows how much I love Buneary and Dawn essentially

It's just the cutest thing, which will be in my shirt/pocket in my jacket in Indy! :D I really love this plushie, it's justs o adorable and I have been waiting so long to get this one.

Shaymin:
This one is going to be long. As I was deciding what pokes to get, I wanted to get one that meant something to me. I really wanted a cute pokemon, and I was talking to TwilightBlade, one of my greatest poke friends evaaar, and she helped me pick out this Shaymin! It is the cutest plush ever, even more so than Buneary. If you have seen my pictures from Philly I had Electivire and Growlithe on the table while I played my matches, well in Indy it will be Shaymin and Growlithe. Shaymin is because it's pretty much blade

and it will remind me of all of my TC friends as well. I also wanted something that reminded me of the support from blade, and everyone else too

I would like to thank her for picking out this shaymin for me, I absolutely love it, and it is one of my favorite plushies :D
Now a picture with all of my plushies and MTN DEW!!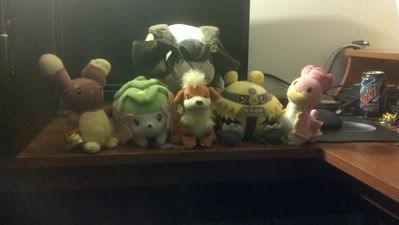 I am so glad I got some new plushies! :D I am wicked excited for Nationals too. I just wish my classes were over already so I could focus on getting ready for that ! I really wanted to show off my new plushies and my old ones, which I still love as well :D I waited till all of the plushies came in which I had to wait for Terrakion, I mean it's a 10" plush, but I adore it!
Shoutouts for this entry!

TC: I love you guys <3 I can't wait to go to Nats and know you guys will be rooting for me! That srsly means so much to me! The support is great <3
Syd: For helping me decided to get Terrakion, I trust the plushie expert :D
Blade: For picking out shaymin

it's the greatest ever, and it's a special plushie to me!
My work: For giving me moniez for plushies :D
Hope you guys enjoyed the read <3 Comment if youd like :D
Comments