&Your effort was valueless, sorry, princess~.
I want Candy
---
NIGHTMARE NIGHT! WHAT A FRIGHT GIMME SOMETHING GOOD TONIGHT!
ROAR I WANT CANDY! GIMME CANDY, PC!
...Uh... Happy Halloween everyone. xD
Go hit some houses and get candy like Idid this afternoon.
Also go dress up: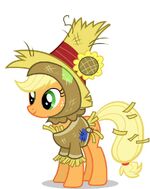 DON'T BE STUCK HANDING OUT CANDY! THAT'S TOTALLY LAME.
(Oh, yeah if Hurricane Sandy prevented you from buying candy than slap a "NO CANDY" sign on your door.)
Comments
Posted October 31st, 2012 at 3:18 PM by

Mezzo