HeartGold Blog Entry 3 - Ruins of Alph to Bugsy
Posted September 13th, 2009 at 11:10 AM by
Eucliffe
---
OK, I'm not using any spoiler tags, so if you don't like spoilers, then don't look. Because someone,
who will not be named
, didn't like how I spoiled the first gym for him. Or maybe that was sarcasm. With that person, I don't know what's what anymore.
ANYHOW, more screenies from the great beyond.
This is what the Kabuto puzzle looks like this time. Rather than move all the pieces around to get a picture, you have to...
Mouse over this for spoiler; so I decided to do some spoilers another way
Kabuto, completed.
The demon of Slowpoke Well is waiting for j00...
Yeah, I sorta got the idea from mitchman's blog about the demon of Mt. Silver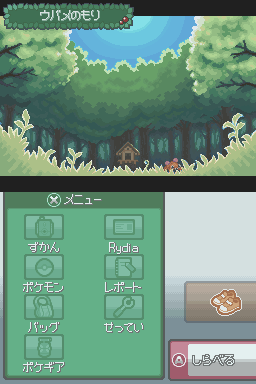 The demon of Ilex Forest is much more sneakier than the Demon of Slowpoke Well. Maybe being small is a good thing after all. Please note that I entered Ilex Forest just to see what would pop up. This popped up.
Bugsy's gym, part 1. I'm not gonna say how to get around, I'll just say not to use the spider on the far right. It'll take you a dead end. That'll be all.
Bugsy's gym, part 2. This time you have to use levers to drop the blue/red vines/spider silk/whatever they are in order to get around.
"Wow! What a pretty gal!" -Gold, Pokemon Special
I'm sorry. I just had to XD Poor, poor Bugsy ;_;
Bugsy's no match for Yoh~ And I even took out his Kakuna with my level 5 Togepi :3 Thanks to Extrasensory, plus the fact Yoh had already weakened the thing.
...
And that's it for now. Current team is Yoh, Female Bayleef, level 23 and Gold, Male Togepi, level 6 (or maybe 7, I forgot).
Comments