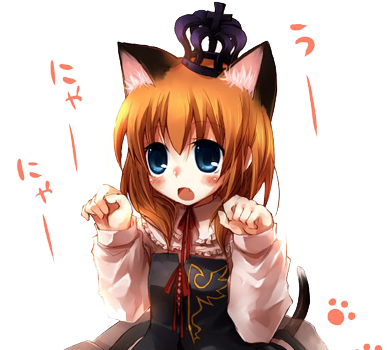 ifyoucanreadthis, lose the game
SLEEP IN SLEEP IN MAMA PLEASE PLEASE PLEASE
---
So
it's 2:07 am.
I have something at 8 am I don't want to go to and yet I have to and yet
I am still up
at this god forsaken hour. I'm a morning person, nights are when I start getting loopy and stuff and then things like the great spork war of the winter of 02 happen... kihhihi spork wars.
Anyways I digress.
I got my schedule figured out for next semester
19 hours in a US university.
...:D I'm absolutely bat-ing-ly insane.
But I have a ton of classes to make up because I'll admit I'm a hard working student but I've really struggled, especially in the past couple of semesters, with just adjusting to college life and getting over illnesses (being a sickly thing sucks sooooo hard core.)
Anywho...yeah. I'm trying to just power through the classes and yes I did keep a music class just to keep me sane.
I'm hoping with all new professors I can give this one more semester to turn things around so people stop looking down on me.
My name is Mika and believe it or not, I'm here to stay and I opened up almost all my afternoons and evenings for my friends so I don't do something stupid like turn into some sort of nerdy NEET. But I'll put studying here
so my mama doesn't get upset with me.
because it's the most important part mmyes.
Anyways
Here's the potential schedule:
Culture, Nature and Society, 9am MWF [3 Hours]
Critical Writing about Literature 11am MWF [3 Hours]
Personal Wellness [Gym Class. In college. D:] 6:30 - 9:20 M [3 Hours]
Life: The Natural World 9:30 - 10:45 T/TH [3 Hours]
Dynamics of Human Development 11-12:15 T/TH [3 Hours]
Mathmatical Reasoning and Concepts [kill me now] 2-3:15 TTH [3 Hours]
Non-Audition Concert Band Th 7:30 - 9 [1 Hour]
I love Women's Chorus music but unless I can swing participation credit, I can't do it next semester which is depressing but life can be that way sometimes. :< Only real problem is T/TH. The Science Building and the Education Building are as far apart as Santa and Penquins. Yeah it's gunna be a run and I have a crappy leg. WHOOHOO. And then there's that math class. Guys this is the THIRD TIME I've tired this class. Hopefully, if Rate My Professors doesn't let me down [it hasn't yet!] this'll be the semester I
finally pass this horrible little b-word of a class
. I hate it. It's stats and probability and it's the ONLY math class I can take. ;n;
Anyways
My reward for this?
Anime North.
Raw Raw fight the power.
;n; FRIENDS OF MINE PLEASE SUPPORT ME. I REALLY REALLY NEED IT.
AND I GOT THIS DONE BEFORE MAMA GOT UP.
ALL THE POWER GOES TO MEEEEEKA
Comments
Posted November 5th, 2009 at 2:10 PM by

seeker