A delightful mix of various topics sure to excite you!
---
Or not, lol... depends on your interests.
First off, I have rolled out a new theme (recycling most of the code from an old theme collab) advertising my new fan fiction (
SO READ IT!!!
) which means...
My previous Pretty Cure/Honoka Yukishiro/Cure White theme gets immortalized here:
Elite Overlord LeSabre™
MyAnimeList
Friend Code
Expanded Profile
Elite Overlord LeSabre™'s Blog
My Bishies
PC Family
Lovely Pair
Sister #1
Brother #1
Granddaughter
Partner In Crime
Second, I will be
LEAVING PC...
...from the 17th to the 19th to attend Anime Weekend Atlanta, an anime convention in
Pallet Town
Atlanta, Georgia.
As for my cosplay... the guy I commissioned to do a high quality Blue/Leaf cosplay cannot finish on time, so thanks to the magic of eBay, I was able to procure a cosplay of this character which I will wear with pride: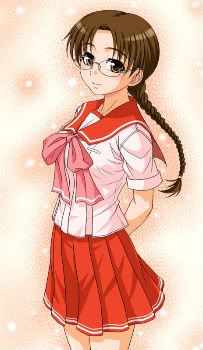 Tomoko Hoshina from To Heart
Yeah, I could have technically gone as any of the To Heart characters but since I have a brown wig in anticipation of my Leaf cosplay, Tomoko it is! However, I may or may not braid the wig and go as "Tomoko with her hair let down". Also of note is that the English voice actress for Tomoko (Lisa Ortiz) will also be at AWA (Ortiz also voiced Mars in the Pokemon anime, BTW). Talk about coincidence, lol.
Since it is a fairly large con, I'm hoping to get some pictures with a good Leaf/Blue cosplayer while I'm there. And a Cure White cosplayer. Then I could die a happy otaku

Our hotel for the con is the Sheraton Suites Galleria. Looks like a nice place, but don't expect Sheraton to replace Quality Inn as my preferred hotel chain... Sheratons may be nice but they're also way expensive and wi-fi and breakfast are gonna cost extra. Good thing the room will be a suite since four of us from our local anime club will be sharing a room. But am I betraying Quality Inn by staying elsewhere? lol
Well, that is it. Now, didn't those topics excite you? xD
Comments