「  
aizuke
@
youtube
☆
deviantART
☆
twitter
☆
icon livejournal
☆
instagram
  」
Great news for anyone who cares!
---
I went to see a dentist surgeon yesterday, about getting my wisdom teeth pulled out, and he told me, removing them all isn't necessary, because my top wisdom teeth are acting like back up teeth; meaning that if they go down, they'll push my molars out and replace my molars. As for the bottom ones, one of the left side is fine and he said it may or may not grow up, but for now it's not causing any harm and the only one that needs to be removed is my bottom right side wisdom teeth, because it's growing like this;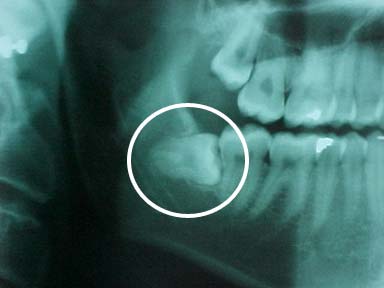 (btw, they're not my teeth, I just found a random picture to show you gaiz)
Because that teeth is impacted and smashing onto my molar, my molar is going to be removed, and also my molar on my left side, since it's kinda decayed and there is actually nothing there, since it broke for some reason. :( So 3 teeth are going to be removed, and it'll cost like.. $1000 which is good, since like I already have the money for it. Yeah, some people may think that's expensive, welcome to Australia baby. But really, I would have been paying at least $3000-$5000 to get all my widsome teeth removed.
Anywho, this pleases me because I've been waiting for this for a while. It hurts to eat and my teeth have been annoying me, so I'm like, "BRING ON THE 16TH OF JANUARY YAY." And I'll get time off work, since I'll be a chipmunk. :D
Comments