Lisa's 21st birthday! (Ask Lisa Anything!)
---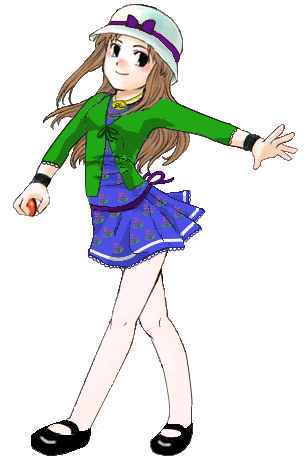 That's right! My OC trainer Lisa is now of legal drinking age! Hard to believe she was only 15 when she first appeared and set out to train Pokemon. Now she's a Ph.D. graduate, not to mention a multimillionaire and a secret agent who's skilled with firearms and extreme driving.
Anyway, to celebrate, I'm doing a variation of the "Ask Me Anything" meme where "Lisa" will answer your questions (It'll be me answering, but stepping into the role of Lisa and answering as she would). So, if there's anything you'd like to know about her, ask away!
In the meantime, some eye candy! The following are all works of art of Lisa that I had commissioned from various deviantArt members. Now you know where the bulk of my money has been going lately xD
Lisa. On a mission. In her car.
A more "causal" outfit that also reflects her South Carolina heritage.
Lisa and the character whose looks inspired her design. Looking totally badass.
Beware sudden gusts of wind. Especially when wearing a "formal" outfit.
Another Lisa and Leaf BFF pic.
Lisa and her friend Sadie (actually an OC belonging to my pair and sometimes fan fiction collaborator Haruka of Hoenn).
Formal wear. An '89 Buick wagon. Together they are epic.
Lisa, somewhere she really doesn't want to be.
Lisa, somewhere she totally wants to be.
Hope you enjoyed the Lisa eye candy, and ask away with your questions

Comments