My (not really) new computer
Posted May 16th, 2012 at 7:26 PM by
Arcanine
---
I told Robo (Morkula) way back in January that I'd take a picture of the computer I built (I built it in Jan). And then I never got around to it... until now! I cleaned up my desk a little and thought "Might as well." and so here are the boring pictures of my ever unchanging desk.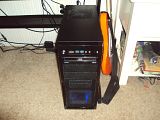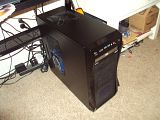 The pics are a little brighter (and blurrier) then I wanted but whatever.
As you can see, nothing fancy about the case, but still I like the look of it. On top of that I'll be the only person who looks at it day in and day out, so as long as I like it that's all that matters. And I build it for gaming, so if I'm getting a 7.2 out of 7.9 on the Microsoft awesome meter (where my laptop got a 3.8) then I'm happy (even if it's not the best way to judge a system).
My computer's insides are...
CPU: AMD FX 4100 4-Core Processor
GPU: EVGA GeForce GTX 560 Ti Superclocked 1024MB
RAM: 8 Gigs
HDD: 64 Gig SSD that's used for the OS, and a 2 TB storage drive
Disc Drive: Samsung Blu-Ray Drive
OS: Windows 7 Home Premium
Case: Rosewill Challenger USB 3 edition
I also picked up a new mouse and mouse pad for it, a Razer Naga (pic 4). And I have my 7.1 surround sound headphones (Astro A40) hooked up as well.
What does all this mean? This means I can now play Minecraft without any graphics lag!!!!!! AND! I can watch YouTube vids in 7.1 surround sound!!!!!
I plan on upgrading my monitor (20 inch LCD) to a 27 inch LED and running dual monitors, but that'll be a month or so down the road.
It's the first time I built a computer, it was something I always wanted to do. Maybe next time I'll go for a more fancy case, higher end CPU, etc. But for now it's a good gaming PC.
(And yes, I play more then Minecraft... it can run Modern Warfare 3, and Battlefield 3 on the highest settings with no probs whatsoever)
Comments