Pokecommunity Meetup!
Posted May 30th, 2012 at 10:54 AM by
Kura
---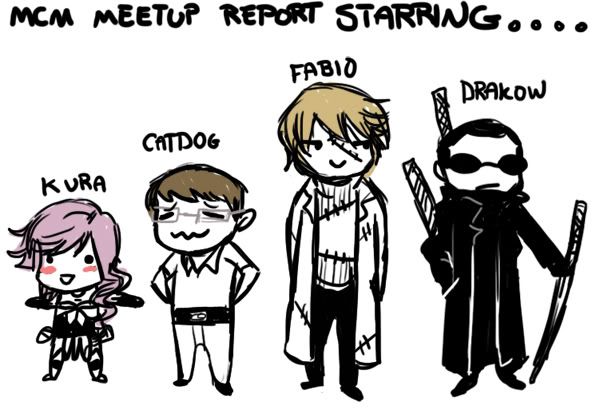 Well! I'm terrible at introductions but here's my attempt: This past weekend was London's MCM Expo where I got to meet some awesome PC members and also experience my first Con in the UK!
Okay.. longwinded introduction over. On the Friday I was wandering around for about an hour until I met up with Captain Fabio! He apparently spotted me first, and he gave me a call and I shuffled back and saw him! Manouvered around all these line-dividers and came up beside him! :3 Yaaay! It was so cool to see him in real life! *_* And he is so taaallll!!! I'd known him since he joined in 2006.. which is ages ago! So meeting him was really surreal! I wanted to give him the biggest hug, but unfortunately, my armour would've crumbled to bits if I did that :c So I had to just settle with a hoverhand and a pat.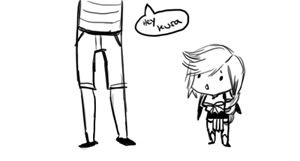 First meeting Fabio
I later met up with a bunch of Fabio's friends, and they really do need an honourable mention because they are all really wicked people. I'm really happy to have fit in with them and I'm happy I made friends with them too :3 Friday was pretty fun! We wandered into the dealer's area to check out the merchandise and all that, and I got my picture taken quite a bit, too. The convention was a lot smaller than I was expecting but still had some really awesome cosplayers :3
Fabio and I
Unfortunately I had to leave a bit earlier on the Friday because I was worried about train times. @
[email protected]
I was really thirsty by one point actually.. but I didn't want to drink because I was in such a rush that morning, that I glued the belt and chest plate together.. so I really had no way to get out of my costume unless I cut a small strip of fabric that connected it on the belly. Haha.. Fabio and his friends had a hotel..
which is the best idea ever because that would've been so much easier..
I am totally getting a hotel next time because whilst I was going home, and in the middle of the big, busy train station looking up at the train times, this creepy old bald indian dude came up from behind me right in my face and started soliciting me; the whole "Hey I can show you a fun time" garbage- which has never happened to me in Toronto. (I really didn't think hookers wear armour do they?) And I wanted to tell him to get away before I yelled for security, but my first reaction was choke a bit like fake gagging, and then say "no" with a disgusted expression- though I guess that in itself is a pretty good reaction. Thankfully he went away. I flipped open my phone and called Fabio to ask to stay with him for the Saturday.. because no way in heck was I going to risk that again. : | Ick.
Saturday was one of the best days! I made it to the expo around 12ish.. and met up with Mr. Catdog at Subway! He was grabbing lunch (obviously) and I called him while right outside the line because I wanted to make sure that it was him in the line~ :3 And when he paid and stepped out it was like.. YAY! :C But again I couldn't hug him either because I was in cosplay. Urrgg.. He also doesn't like pictures so that's why there aren't any random ones in this post ;___;
We did a bunch of maouvering around to find Drakow and Fabio (who was doing a photoshoot) and again I got stopped a bunch of times @
[email protected]
Derp. But we eventually all met up and hung out and it was crazy good times!
Drakow in Cosplay!
I was also kind of like CatDog in that.. my favourite part of the con was just looking at all the cosplayers- chatting, and asking about their tips and craftsmanship and all that. Speaking of cosplay, Drakow was in his Blade cosplay- and Fabio was dressed as Dr. Stein :3 We sat near the Ibis hotel and had some drinks after a while.. and best thing happened: a couple came by and gave us some extra weekend passes!! Which is amazing because that meant that Drakow and CatDog could come on the Sunday too!! :3 YAYAYAY! Later that night I got changed and we went over to a hotel party hosted by Fabio's friends which was great! CatDog was being really funny and was making puns of everything :3 It was a good laugh!
I think we all just had a good time enjoying each others' company- or at least I did! Being able to chat face to face was great! But we soon parted sadly :c though I joined Fabio at his room because well.. like I said- no way in heck was I going to put myself in that sort of creepy situation. We ended up chatting about random stuff and about PC and putting on a Pokemon movie (the really crummy Darkrai one hahah) and soon fell asleep.
Fabio putting on some music
Sundaytime!! Sunday I didn't cosplay- I couldn't be arsed to cosplay..
it's a pain feeling like you have to sit and walk up stairs like a cripple and I wanted a day where I could just relax so I dressed normally. Fabio and Drakow cosplayed again, though! And Fabio had another photoshoot to do, so Drakow and I waited for him to finish that up and then met up with Mr. Catdog again!
Drakow and Fabio enjoying a little moment
Sunday was a really chill day, and it was a really nice day, too! We took a whole bunch of pictures by the river, and Drakow showed off some really wicked swordplay.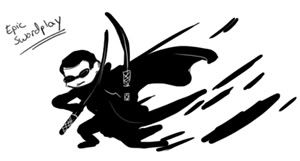 *__* It was fun to watch! Fabio changed out of costume after some time though- it was getting really hot by midday.
Catdog and Drakow by the river!
I was all "MORE PICTURES MORE PICTURES" because I knew I was going to be sad once we had to part later in the evening. So we posed for a picture which CatDog was gonna take (because he doesn't like to be in pictures) and BAM! It happened to be on video! So.. hurrah! Here's the video so you can see us acting like giddy retards on the Sunday!
We chatted a bit more and played some "Who's that Pokemon!" where I attempted crude drawings of pokemon and the others had to guess what they were. I failed majorly at the Foretress/ Pineco combo though- everyone thought it was that farrowseed pokemon and it's evo which I can't remember
haha.. but funtimes all around!
http://i22.photobucket.com/albums/b314/ichigo_kura/Convention/MCM/DSC03536.jpg
http://i22.photobucket.com/albums/b314/ichigo_kura/Convention/MCM/DSC03537.jpg
We went for dinner a while later- which was really nice.. and then soon it was time to part ;_; I was happy to finally be able to hug all these awesome guys! And I definitely want to hang out again with all of them! (We really should, since we all live fairly close!) I had a really amazing weekend and I can't wait for the next Expo or time that we can all spend together! I already have my next cosplay planned!!!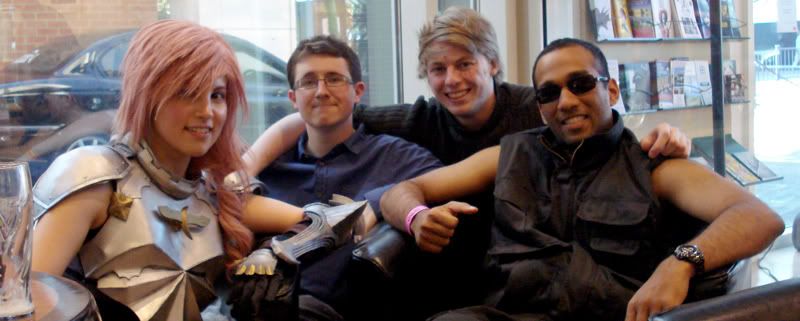 P.S. All of us except Mr. PartypooperFabio did the Catdog signature dance and it was awesome *___*
Comments