HI GUYS.
---
Look what I have!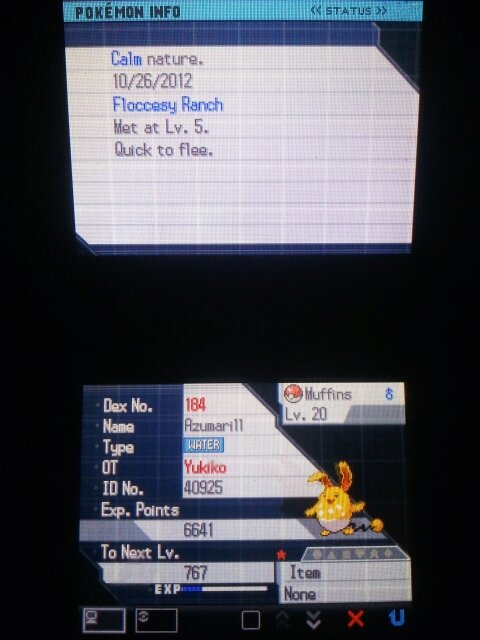 Caught him yesterday as a Shiny Azurill and was oh so happy! First shiny of the fifth generation!
.. but that's not why I'm making this entry. I'm actually making it because I decided that I was going to try and tackle one of the monotype medals and beat the Elite Four with only Water Pokemon. I've already decided two members (one of them is a current member because lazy and the other one being that lovely poke up there in the image) and I want you guys to decide the rest!
Requirements are:
- Must be a water pokemon (duh)
- Must be a Pokemon I can catch in my Black 2. So no Pokemon I would have to trade to get, please.
- Pokemon I have never used on a team ever (I'll provide a list to make this easier)
here's the team thus far:
1. Azumarill (Muffins)
2. Vaporeon (Jellal)*
3. Keldeo
4. Jellicent
5. Poliwrath
6. Simipour, Lapras, or Gastrodon
*Actually depending on the suggestions I might not use him since technically by this point I would have used him on a team. Also I have used an Azumarill but
shhh
I've never used a
shiny
one before so it counts okok.
and here's the list of Pokemon I have never used:
Keldeo, Golduck, Simipour, Basculin, Carracosta (I have not chosen my fossil yet so this counts okok), Jellicent, Alomomola, Sesmitoad, Mantine, Octillery, Corsola, Starmie, Wailord, Lapras, Walrein, Dewgong, Omastar, Kabutops, Gastrodon, Poliwrath, Floatzel,
I actually might be missing some because pokemon you can fish and such. yeaaah. so take a shot maybe? idk.
gogogo!
Comments