CarcharOdin: Master of The Universe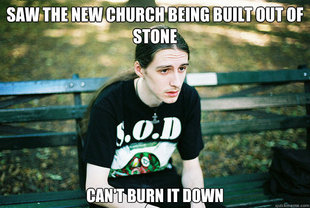 ^You could always try explosives...^
WARNING THE FOLLOWING BLOG MAY CONTAIN LINKS TO:
- KICKASS HEAVY METAL
- VIOLENT VIDEOS
- VIDEO GAMES
- BIOLOGY STUFF
- PHOTOGRAPHY OF...WELL, STUFF, REALLY...
- CONTROVERSIAL CONTENT ON VARIOUS POLITICAL ISSUES AND WHATNOT
- VIDEOS CONTAINING FOUL (AND FOWL) LANGUAGE
- ANYTHING ELSE EXCEPT FOR PORNOGRAPHY BECAUSE THAT WOULD GET ME BANNED
Need Music Recommendations (You Guys Will Be Doing Me a Favor, I swear to God)
---
I've been listening to the soundtrack to a LucasArts adventure game called The DIG lately. If no one has ever heard of the game, I suggest you go
here
and buy it off Steam as soon as possible or so help me God I WILL eat your firstborn. Okay, I'm kidding about that, but seriously, it's a beautiful game.
Anyway, I've been listening to Michael Land's composition for the game for a while and I want to know of similar sounding music out there that I can get into. Wikipedia describes it as New Age/Ambient, but it's got a space-themed symphonic/atmospheric element to it as well.
Here are a few tunes to get the idea of what I'm looking for:
Anyway, if you know of similar music, give me recommendations in the comments below. Thanks. No seriously, thanks.
Comments