Open it and see. ;3
The TV light was flashing! (PC meetup, leaving & Umiiruka!)
Posted April 7th, 2013 at 1:56 PM by
Squirrel
---
HEY GUYS time to actually make a real blog yay! I've just returned from a weekend(ish) in Dublin with the wonderful
François
and people have been asking for details, so here goes:
Basically we forgot to take lots of pictures, but here's a vague idea of the room:
We met at The Spire in Dublin town center with a tap on the shoulder before being presented with a gift (he would kill me if I showed you but it's really cute!) and being taken on a tour of an Irish souvenir shop. After deciding that everything in Ireland is just a slightly altered version of other ideas, we returned to the hotel (whilst getting lost countless times (which was
totally
not my fault (honest))) where we remained for the majority of the trip. With room service and an 'artistic' movie, we stayed up into the early hours of the morning talking about the most random things before finally sleeping around 4.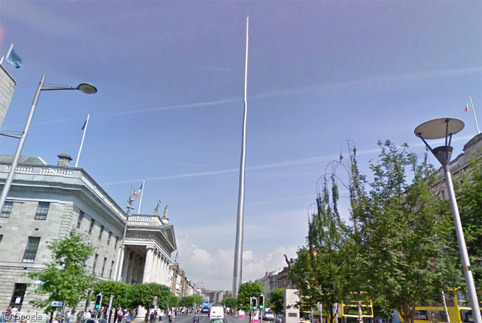 (Big pointy statue thing!)
We proceeded to wake up ridiculously late the next day and spend the remainder of it in the warm bed with rubbishy Irish TV shows about lesbian fairies taking over the world and cheese graters being shoved into our ears (actually turned out to be amazing). After ordering pizza, forcing him watching Doctor Who and another night's sleep, day three was met with a last-minute rush to leave the hotel room on time and an exploration of Dublin's town center (Subway, yay!), followed by a trip to the art museum and a difficult 'good-bye' at the train station. We're both awful at photography, but here's the best attempt!
(Yes I'm dating a stoner)
The whole trip was utterly wonderful and more romantic than force-feeding your Polish wife chocolate because you prefer fat women, a wonderful testament to meeting people online ♥ It's the first PC meetup I've had and certainly won't be the last with plans to repeat this in the summer, but the thought of meeting some other PC members is exciting too so we'll see what happens!
I'm sure François will log on eventually and probably post something far more post-modern (like MTV) than this and referencing Jesus about 50 times, but he asked me to include "please put in a disclaimer saying I don't always looked doped up". No comment on whether this claim is true or not. :D
In other news, a lot of people have been asking about not being staff any more (and some of the messages have been very lovely <3) - it's a result of time constraints and a few other things going on right now, but we'll see what happens in the future. :)
In other other news, after a conversation with Razor Leaf about how to spend time and an unrelated fascination from François about a fantasy region known as 'Umiiruka', a ROM hack is now in the works based around this region and it's looking 'fab' so far! Spriting is by GolurkIsDaBomb, mapping by myself, story & design by François and scripting by my pet Pidgey (Olli97 for those who live under a rock). Progress so far is looking good for the future and It'll take years of course, but just a small update about what's happening.
tl;dr SQUIRRELS ARE CUTE OMG
Comments