Open it and see. ;3
This is a blog post!
Posted July 4th, 2012 at 2:26 PM by
Squirrel
---
Okay so here's an actual blog post! I had no idea how to do this or what to write so I asked in IRC and this is what they came up with. Enjoy!
Blog Post!
Important news guys,
Megan has a total of 5,044 posts and you'd better believe it's rising!
And to top it off, she has a PPD of, wait for this, 6.62 posts! And once again, this is rising, so stay tuned for more!
So life, life life life... I've been living recently so I guess I'll write about that. :D I'm tired all the time 'cos I don't sleep and that's silly but yeah, that's pretty much all that's going on in life atm. I've got one friend that I'm having some issues with in respect to leaving them and a long dramatic goodbye speech to come, which should be fun! I've got good-byes prepared for the three people closest to me for when I move away so that's going to be a fun day indeed. This is going to be happening on my birthday (so they can't get mad :D) which incidentally is the 17th July - so buy me presents kthx <3
Right, now to talk about Pokémon... Well, I guess I'll talk about one of my favourites since I first saw it that I feel doesn't get as much love as it deserves. Say hello to Bronzong!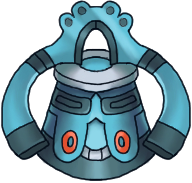 Bronzong is adorable and derpy and powerful and a complete beast in battle so I declare tomorrow official "Bronzong appreciation day". That is all.
Now for PC! Well, PC is good and stuff. Recently I had a kinda down moment about PC based on some stuff which happened behind closed doors for the past few days, but that's going away pretty rapidly after today (Olli if this continues then it might mean what you're thinking :3) and I'm really getting back into the swing of things. I'm adoring the Pokémon Trivia section more and more and of course I can't say no to some good club posts too! Also excited about the PPCs possibly coming up soon so if you haven't already, make sure you head on over to the Other Trivia section and give some feedback about what you want to see! :D I've made a lot of new friends recently on PC, become a lot closer to some older friends, and unfortunately lost some too, but things are all looking good for the time being so time to keep on moving forward :D
The USA is breaking the internet..? Well, I have no idea about this so here's a picture of a squirrel eating cake, courtesy of Eric.
And finally Olli97. Don't expect me to say tonnes of nice things 'cos you already know how great I think you are, but how dare you go away for a week! And then another week after ;; At least you're here for my birthday or otherwise I'd cry :D But don't worry, I'll just find a replacement friend for you 'till your back c; I'm sure we'll be saving facilities from birds together for a long time yet o/
So yeah, this was a 'proper' blog post. Never done one before but it was actually kinda fun, so if it's interesting then next time I'll go into a bit more detail :D And if not then I'll hang my head in shame and cry. c:
Peace! o/
Comments