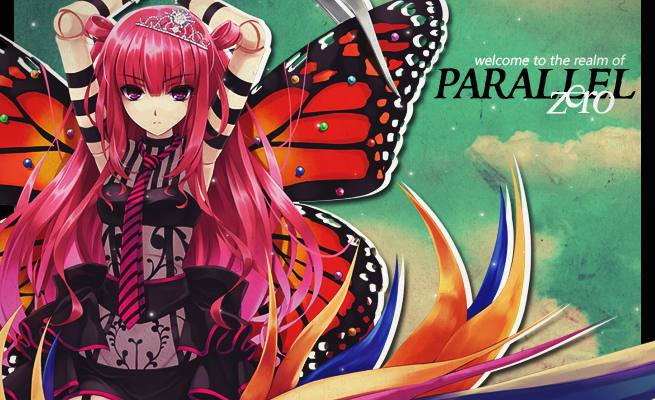 Anime North [Day 2] - "Why did everyone forget I'm crippled right now?"
---
I'm warning you now, this entry is super picture heavy.
On the last exciting Anime North blog post, we ended on a note of ridiculous amounts of hours with no sleep and intentions on getting up early to head down to the con. Well, that went something like this: nobody really got up until like 11am, and even after that like everyone had to shower so we didn't even get to leave our room until about 12:30!
So when we finally made our long hike down to the con after trying to deal with Jeff and Shawn's money issues (Jeff had a super low limit and Shawn had just been using ATMs that didn't take Visa) and we decided to eat first at this pizza parlor. The pizza looked super greasy, but I wasn't really very hungry so I didn't eat anything and enjoyed a slushie instead. We also realized Erica and Shawn had left their passes back at the hotel, so we had to walk all the way back and forth again down our 15 minute walk =P.
By the time this was all finished, it was already like 4pm and we had done nothing in the con at all, so we went to the Dealer's Room again, but this time we checked out the art section where various artists were selling prints and commissions of their works. I think both Erica and I spent small fortunes... that said, I'm going to show all the ones I bought =D *shot*
Tengen Toppa Gurren Lagann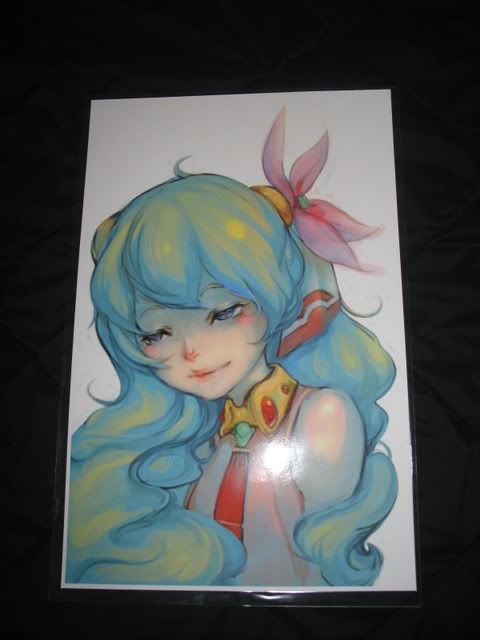 VOCALOID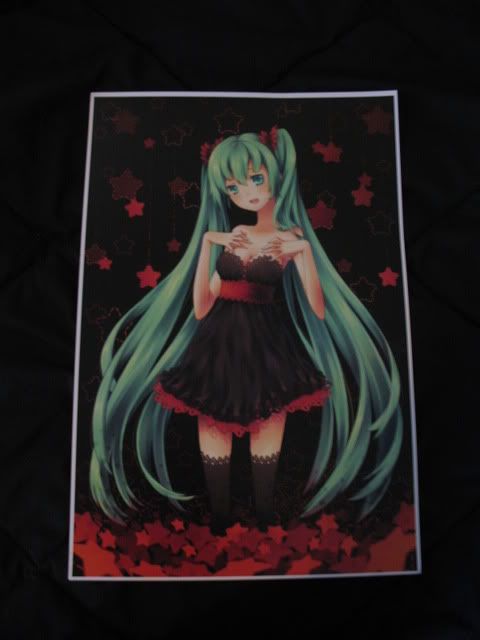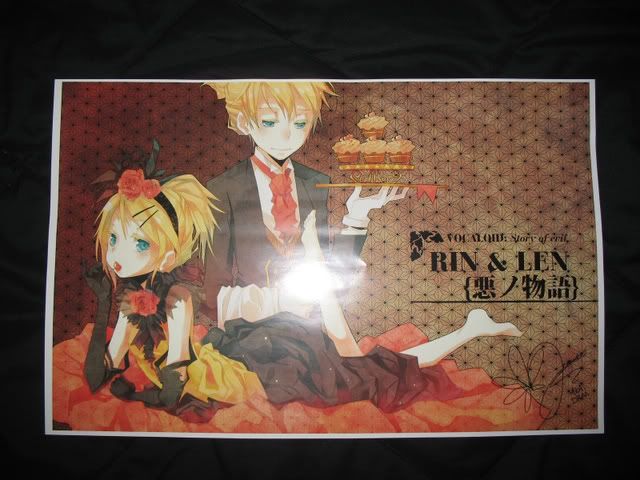 Misc (BLEACH, K-ON, Original)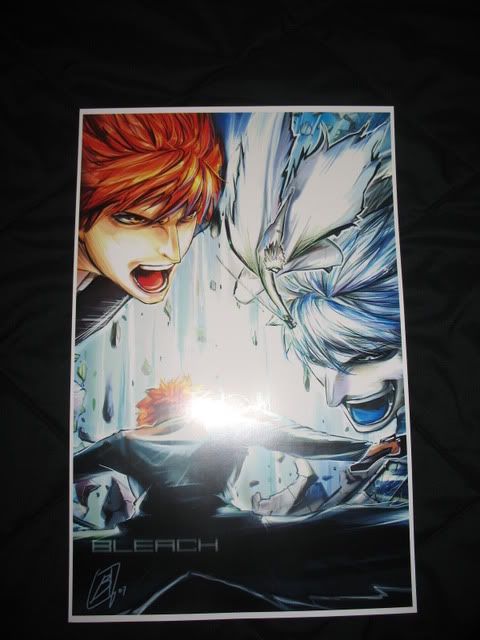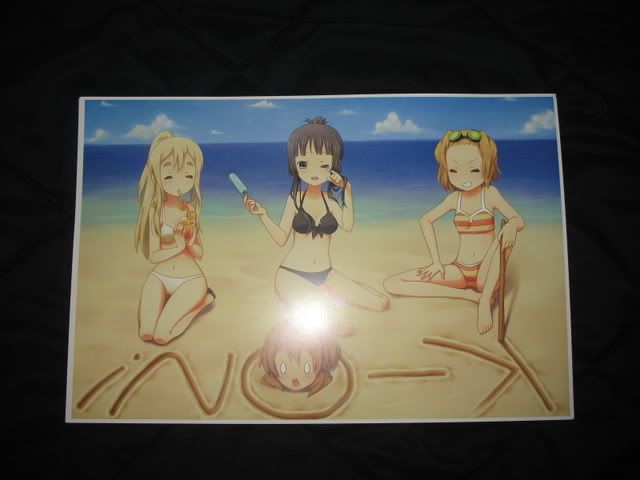 Bookmark and Keychains
I spent around 100$ on all that. *shot* It was fun though. =D
Afterwards, we went into the actual Dealer's Room part of the Dealer's Room and I kind of separated from the group to do my own shopping thing again, and ended up spending like another 100$ on two BLEACH posters, a Katekyo Hitman Reborn poster, three cute figures of Shana from Shakugan no Shana, Euphemia from Code Geass, Colette from Tales of Symphonia, and I also bought part 3 of the first Code Geass season.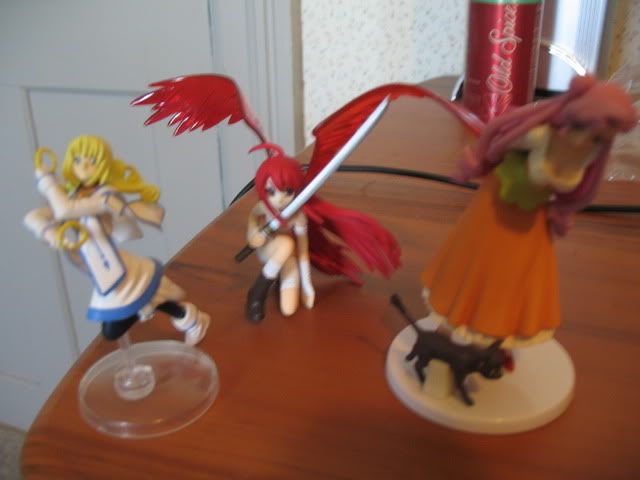 BLEACH Poster 1
BLEACH Poster 2
Katekyo Hitman Reborn Poster
Shana Figure
Euphemia Figure
Colette Figure
Code Geass Part 3
When we were done with the Dealer's Corner for the second time, we headed to the Pokeparty, an event held with Pokemon fans from Pokemon fans. We watched the latest airplane movie that features the adventures of Pikachu and the main cast's Pokemon at first, and then we enjoyed refreshments (or, everyone in the back did). Then we watched the dubbed Giratina - Shaymin movie, which was god awful. Not only was the plot stupid, the dubbing of the main villain alone is enough to make you take nothing in the movie seriously. >.x By the way, if anyone on PC was at the Pokeparty, we were in the front, right corner.
When we were finished there, I found that my leg had tensed up, and it hurt a LOT, forcing me to limp and thus be slower. So, when we decided to go get dinner, everyone but Shawn seemed to forget I was naturally going to fall behind and they sped off, eventually separating us into two groups which eventually met up anyways.
Does anyone remember that comment about everyone being cool except for when they were hungry at like 12am? Yeah, we had the worst time finding food. Everywhere was packed, and Erica and Dean got sushi while the rest of us settled for pizza and pasta. Then I had to limp all the way back after we raided a convenience store for snacks - I bought a carton of orange juice. :<
Then we went back, and I was in pain and not feeling well, so the rest of the night was kind of a blur...
Comments