CarcharOdin: Master of The Universe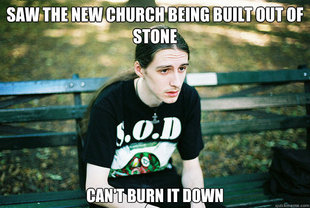 ^You could always try explosives...^
WARNING THE FOLLOWING BLOG MAY CONTAIN LINKS TO:
- KICKASS HEAVY METAL
- VIOLENT VIDEOS
- VIDEO GAMES
- BIOLOGY STUFF
- PHOTOGRAPHY OF...WELL, STUFF, REALLY...
- CONTROVERSIAL CONTENT ON VARIOUS POLITICAL ISSUES AND WHATNOT
- VIDEOS CONTAINING FOUL (AND FOWL) LANGUAGE
- ANYTHING ELSE EXCEPT FOR PORNOGRAPHY BECAUSE THAT WOULD GET ME BANNED
Tier 5, Magic the Gathering, New stuff, and some Prong. Nothing more.
---
Yup, I am now TIER FREAKING FIVE, PC!!!
Anyway, got a new phone today. It's a piece of detritus known as the Samsung Brightside:
This thing has a touch screen sort of like an iPhone, but it's also got a QWERTY pad, so at least some tactile response remains. I personally can't recommend this phone because it has a touch screen, I hate touchscreens, including this one. But unfortunately, every phone store is selling nothing but touchscreen phones. I don't know when this trend will end, but I hope it does real soon, because I'm not fond of tap and pray B.S.
On another note, entered my first Magic the Gathering tournament today. It was a draft tournament. You get three packs, pick a card, pass the pack around, rinse and repeat until you get a enough cards to make up the base of what will be a 40-card deck. Good way to get some three booster packs tax-free and even more free ones if you're good enough. Sadly, I only got one free pack and that was only because my last opponent withdrew so I won by default. My roommate thought the deck was well built, though, it's just it was my first tourney and it was a newly released set (Gatecrash; today was it's release date), so my loss comes at no surprise.
Other than that, I got a shave and a haircut, though it cost me more than two pence.
That's all. Now for some Prong:
You want the good life
You break your back
You snap your fingers, you snap your neck
Comments