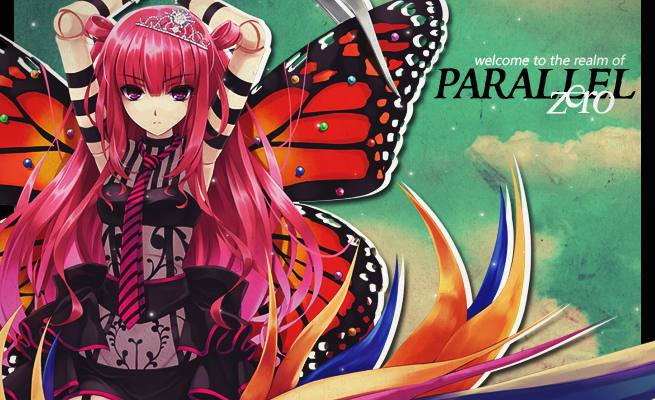 Anime North [Day 1] - "Are you precipitating or are you just happy to see me?"
---
The day began just like any other day... except I had unluckily ended up coming down with an illness the day before the trip I had been planning for five months and I woke up at 4am due to excessive sweat caused by a breaking fever... yay! :) So I pretty much sat in bed for two hours, kind of nervous about what I'd experience at Anime North, one of the few anime conventions in Ontario, Canada. It was going to be my first convention, and I was meeting some PC staff and staying in a hotel room when I had never met them before. Needless to say, I was a little nervous.
So, I enjoyed a nice two hour car ride to Toronto with my dad, who had no regrets in ridiculing my interest in anime and intention of going to a convention. That was fun. Not to mention he drove to the wrong hotel at first. ><; When we finally reached the right hotel, however, the people I was staying with where waiting outside. You know three of them, or rather you should. Erica / Lightning, Jeef / Jeff / Aegis, and Shawn / Ausaudriel was the staff portion of our group (and I was taller than all of them~), and Erica's friend Dean stayed with us as well. They were all pretty cool when it wasn't 12am and they were all hungry, but I'm getting ahead of myself.
So after we saw our nice clean hotel room which wouldn't stay that way very long, we went down to a little coffee shop near the hotel where we ordered breakfast since registration didn't start for AN until about 1pm. Erica's food was the most interesting, since it was a super fantastic looking waffle. Also here: Erica and Jeff explore the dark depths of the coffee shop washrooms...
Moving onto the actual con, it was about 15 minutes from our hotel by foot, and it was a good chance to kind of get familiar with everyone in a way. When we got there, there was cosplay, cosplay, cosplay, COSPLAY. EVERYWHERE. I was kind of overwhelmed at first, but you get used to it as time passes. There were some impressive ones, but... most of them weren't. At this point, we had already seen three Pikachu cosplays and we hadn't even registered yet. So thus, we went and registered, and thankfully Erica and I pre-registered so all we had to do was stand in a short line and get our pass. What came with our pass was basically a cute little tag, a cute little booklet with some nice anime art involving a cute girl and some beavers, and a little random present. I got this chapter of a manga from Shonen Jump.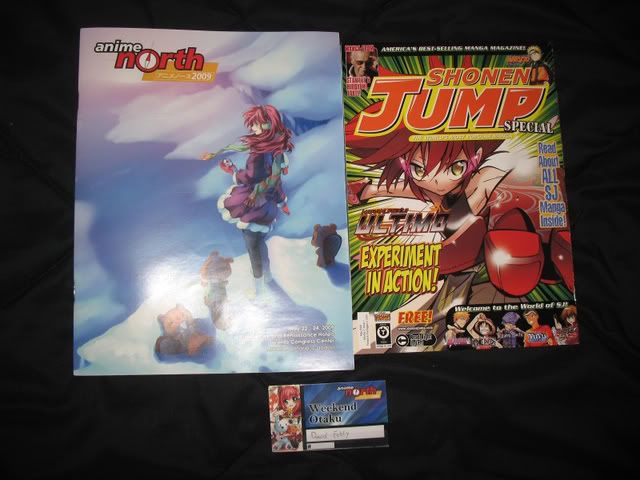 A nice little joke with the name tag was the "Weekend Otaku" thing. "Normal citizens during the week, but by weekend they transform into WEEKEND OTAKUS". Anyways, then Erica and I had to go wait in line again with the others. And what we learned from this line is a simple lesson: if you're overweight, don't wear clothes that are obviously too small for you... ESPECIALLY if you have back rolls. Also, don't wear nothing but a cloud around you like a big fluffy diaper, because then comments like the one in the title surface. So, phew, we ended up getting that done. But, then we realized we had like nothing to do until the Dealer's Room opened three hours later. So, we did what normal Canadians and two visiting Americans should do: got Tim Hortons. Well... we had Pepsi at Tim Hortons, which makes all of those coke lovers in our crew TRAITORS and I'm sure Erica would like me to note that she had water.
So we waited to wait in line for a little while, but when we actually got into a line it was more like a hot, smelly tomb of death since they felt the need to cram 200 people under the same roof in one line in the middle of a hot day (smart!). While we waited in line, however, we met Kura, another PC member who is even shorter than Erica, surprisingly. And thus, we finally went in. We first went to look at doujinshi, where Erica spent a small fortune and I wandered off with a Gurren Lagann, Simon x Nia doujinshi for 20$. It's actually super pretty, as you can see: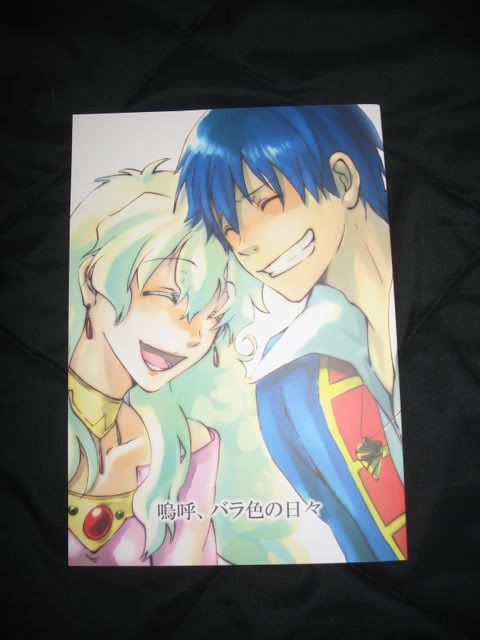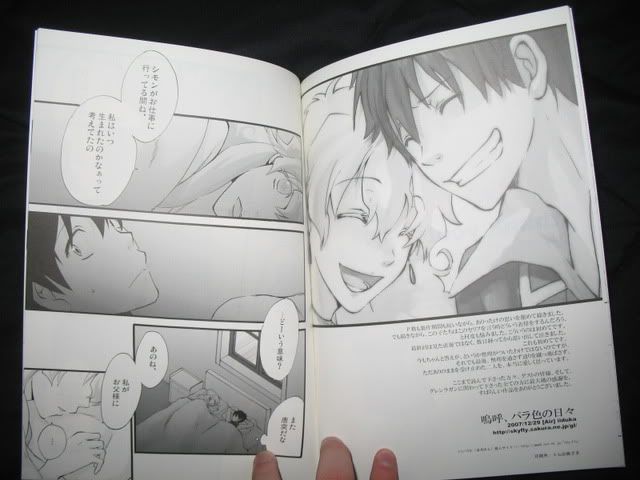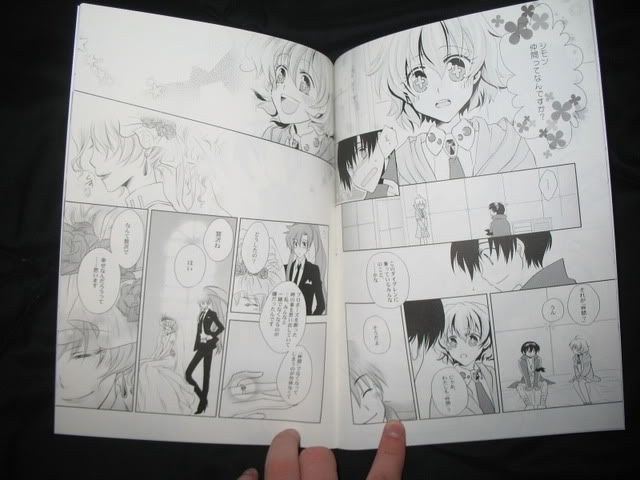 I also got a Death Note on the Friday. It's pretty neat, since it has all the pages with all the rules on it (there's like 50 pages!) and then it has the actual note, which is filled half in already with names Light wrote in the series, such as Ray Penbur.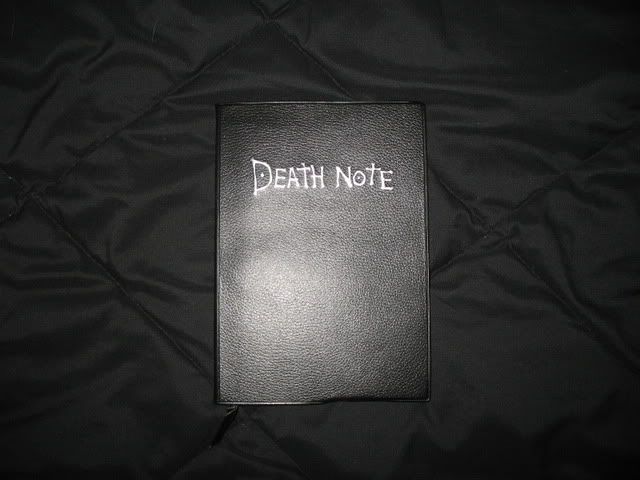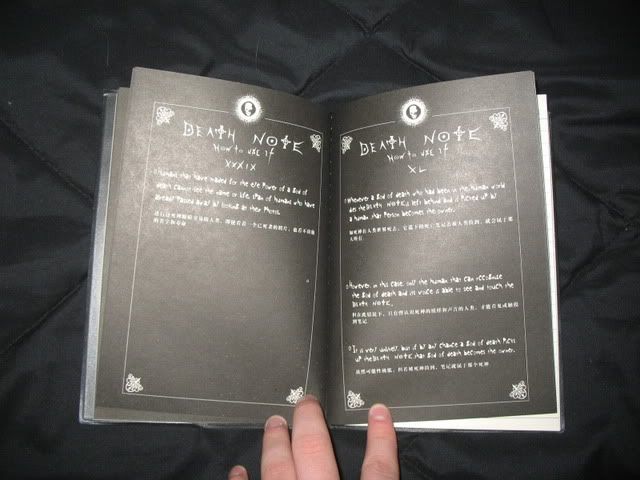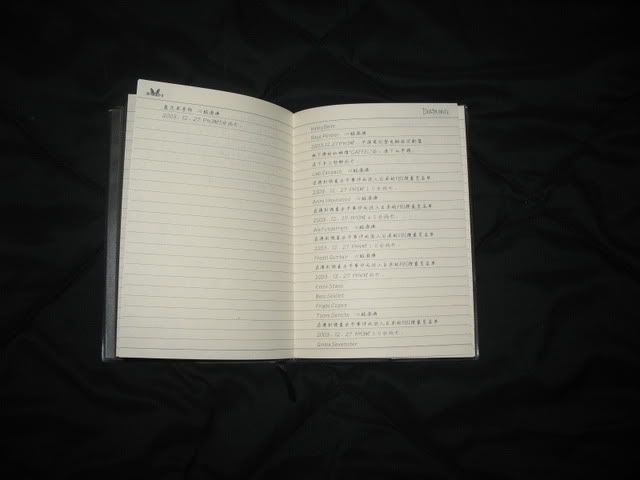 Finally, I ended up completing my Tengen Toppa Gurren Lagann collection by purchasing the limited edition Part 3. Not only did it have the two volumes I needed, but it also came with the first manga volume and a BEST OF CD.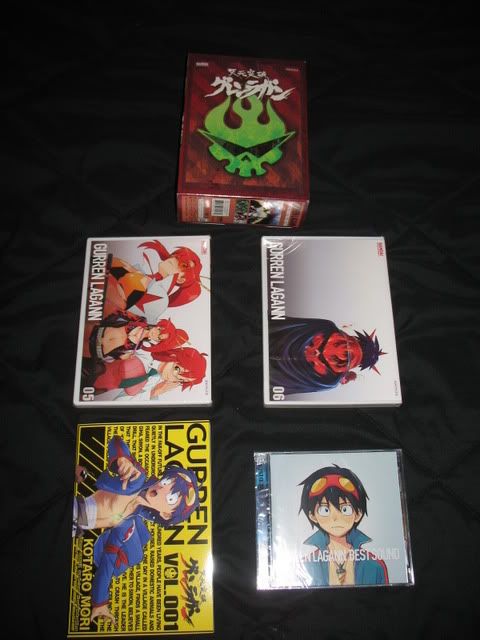 When all was said and done here, we went to the Skit Contest, which actually was better than expected. It just sucked for some presenters that couldn't present because the sound wasn't working at some points. For example, there was this duo that dressed up as Kururugi Suzaku and Euphemia li Britannia from Code Geass, and the Euphemia was so super pretty and her dress was just so wonderful, but then the sound didn't work. D=
After the skit contest, we just decided to go get dinner and we went to Jack Astor's where we either ordered chicken strips or fajitas, though I can't recall what Kura got. Some stuff went down here, but it's one of those inside jokes that should still on the inside...
Then we went back to the hotel and bummed around in our room doing stupid stuff. I went to sleep at 3am like a person who was aware we had stuff to do the next day, while the others attempted a 5am sleeping time. How did that work out? SEE MORE ON DAY 2.
Comments