Just a doodle..
---
Soo.. I got a new bamboo tablet.. and I decided to doodle something up..
I need to practice my cellshading ._. And I need to work on better poses..
Yes.. I was too lazy to lineart the foot..
and yay.. yusei and retarded colours.. yay for 2-minute sketches!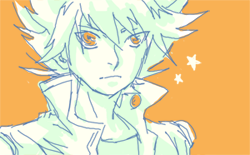 Comments
Posted June 13th, 2009 at 10:10 PM by

Zet