Weekly updates on the development of this crazy pony RPG that I'm spending
WAY
too much free time on.
So what's
Battle Gem Ponies
about?
Command super-powered, shape-shifting ponies in this turn-based RPG Adventure! Embark on a journey to become the best pony trainer in the world and protect the magical creatures from those who want to use their power for evil. Master the elements and special move combos to gain the advantage in Rock/Paper/Scissors style shapeshifting combat!
Reblogged from:
http://www.yotesgames.com/
BGP DevLog #170 (Re-Coding)
Posted May 23rd, 2018 at 12:53 AM by
Yotes
---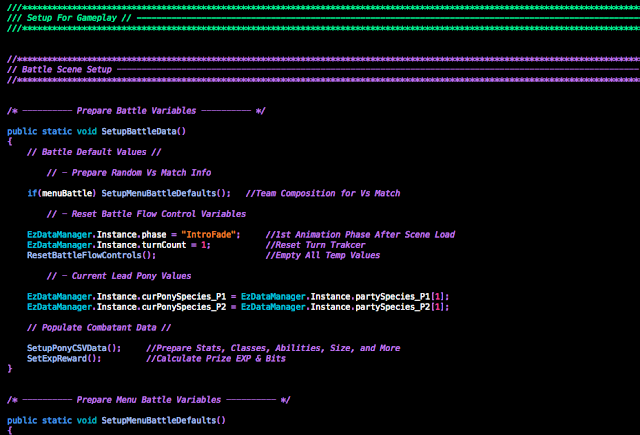 Once again, starting from scratch. But this time it's in regard to how I code things. Going forward I'll be using new organization tricks to make sure I understand how the entire game works inside and out. No more endless bug hunts because I'll know exactly where they are and what that line of code interacts with, all to better help me deduce the cause of any problems.
Also took a stab at rearranging the development schedule to aim for a July 25th release. The path is laid out, but the main factor determining if I can make it is getting to that Alpha build I've been yapping about for years now.
All this reorganization stuff should help with that, because things will be more efficient than ever. No more hardcoding, no more just copy/pasting from solution forums, and no more being stingy with line spacing, name lengths, or comments.
Read More:
Yotes Games Blog
Comments