YOU'VE KILLEED MEEEE.
---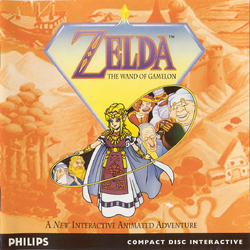 Now I wanted to blog about this game for some time now...
So There's this game on a console called CDi called Zelda: The Wands of Gamelon.
Basically, the player is only equipped with a sword and shield. The sword is used to attack enemies, fire deadly Power Blasts and communicate with friendly villagers, whereas the shield can deflect projectile attacks thrown at the player. The shield is automatically lifted when the player is standing still or crouching. Other helpful tools, such as lamp oil (for lighting a lamp), rope (for climbing) and bombs (which can destroy some obstacles) are available for a price at the General Shop in a place called Sakado. The rubies that the Merchant takes as currency can be obtained by defeating enemies. Green rupees are worth 1, blue rupees are worth 5 and red rupees are worth 20. To pick up these gems, the player must strike them with the sword before they disappear, unlike most conventional Zelda games where rupees could be collected by simply walking over them.You also have hearts as life. When you run out, you'd have to start at the beginning of the level.
td;lr, its like any other Zelda game, but bad.
What's interesting is that this game has its interesting cutscenes, like when you defeat a boss:
Comments
Posted January 7th, 2011 at 2:49 PM by

Luck