I don't have a description that could satisfyingly explain the possible contents of this blog. Maybe in due time I'll figure it out.

In the meantime I hope you enjoy.
Entry #3
Posted January 30th, 2018 at 5:39 PM by
Pudding
---

Back in 1977, a spacecraft going by Voyager 1 was sent into space containing a unique item(s) on board. These are the Voyager Golden Records. You may have heard of them, or not. But if not, they're phonograph records containing both sounds and imagery that attempt to portray Earth in its entirety. A sort of a time capsule for whoever stumbles upon the spacecraft. Yes, it was intended as items withholding a sleuth of information for either extraterrestrials of humans of the future.


The contents consist of... anything actually. It ranges from vocal greetings in different languages, the sounds of natural disasters, music from many cultures, DNA structure, depictions of anatomy, and scenic imagery. Of course those are only a few of hundreds of descriptions. Vox in YouTube did a pretty good slideshow of the images
only
(thus not including the sounds and music, for instance).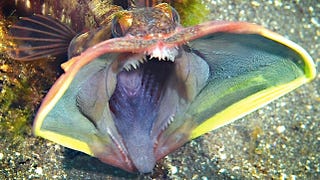 The Discovery Channel introduced me to a plethora of sea creatures and this one is amongst the more memorable ones. It's for a simple reason really - it looks like the damn
predator
of the sea. Hard to forget that, or at least for me it was.
The scientific name for this fish is Neoclinus blanchardi. They're known to be rather aggressive and territorial creatures that can be found in the Pacific Ocean; some of California's coast house these critters. Other than that, there's nothing too significant. Unless you want to see two predator-looking fish brawl it out with them big mouths, then YouTube is your friend.




Hai! I think I like the Tuesday and Thursday schedule of uploading entries here. At least for now while I still have my free time. Soon I will be experiencing a new chapter of my life that will test my limits and patience, but oooo am I excited for it!!! Once the day comes I'll be safe to say (: Otherwise, all I got now is house chores, family duties, and uni to worry about to be honest. Nothing too special.
With that said, Toodles ~<3
Comments