Welcome to the blog! I'm Rachel, and I hope my blogs interest you somewhat. They're mainly just streams of consciousness that happen whenever I think of an idea, but I try to be topical from time to time. :)
Does anyone know what this coin is?
---
I found it, but I have no idea where it's from. My guess was somewhere around the Indonesia area due to the letters, but I really haven't got a clue D: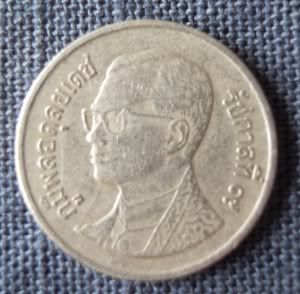 Edit
: It's from Thailand, merci Google.
Quote:
Originally Posted by http://thailandforvisitors.com/general/moneycoins.html
The one-Baht coin is silver and slightly larger than a US cent.

The one-baht coin is a currency unit of the Thai baht. It is commonly called rian baht by Thai speakers (rian meaning "coin" in Thai). Like all coins in Thailand, its obverse features H.M. King Bhumibol Adulyadej. Its reverse features Wat Phra Sri Rattana Satsadaram or Wat Phra Kaew, the royal temple in Bangkok's Grand Palace complex.
Comments