A few weeks ago I was talking to Nica about some new nail polish colors for me. She was no help at all (said she hasn't used it in forever.... no pun) so I had to find something on my own. And I hated this because I really really dislike picking stuff out, just like I hate picking out gifts. How do I know what looks good and what doesn't? I mean if it was me at home all day by myself then I could care less what others thought... seeing how I'd be the only one that saw my nails. But since I have to get out... yea. (thanks for nothing Nica -_-)
Anyway... so I went to the mall (we got a small mall close to here, about 20 minutes away) hoping they'd have something I liked. About the only good stores in the mall are JCPenney and American Eagle (not counting food, I love mall pizza <3), everything else is just smaller stores no one cares about. And so I went there (JCPenney) to see if I could find something nice... well I guess small mall = small selection, they didn't really have anything I liked. And after wasting my time with the mall I went back home and see if I could find something online. And I was pretty happy with the results (I guess online beats local mall when it comes to selection). I got a total of 4 colors, I liked most of them but as for everyone else... well no one has said they disliked it, so I guess that's a good sign. XD
YAY for random pics all over the house!
Also forgive the crappy webcam pics.
(click for larger view)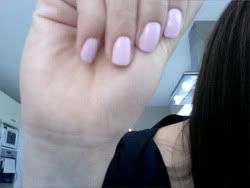 I wanted at least one softish color so I went with a pink. I think it looks pretty good, I'm not complaining.
I don't really like this one. I mean it's ok, but it wasn't what I was expecting. I don't think it fits me... I don't know why.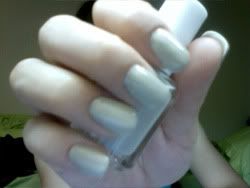 This one is my second fav out of the colors I ordered, it's called "Essie Playa Del Platinum". You can't really see it due to the sucky lighting in the room but it's sort of a grey but at the same time not... I can't find the right word to explain it. It just looks good.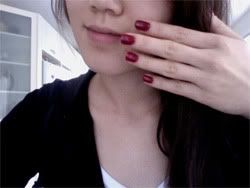 And I just had to get a red. It's a little darker then the SA color, but it's close enough. What can I say, it's my fav color. XD
I like this shade because it's not too dark or too bright.
I should have just painted each finger with a different color and that way I could have gotten all the colors in a single pic. But I wanted to see what they'd look like, and wanted to wear each for a few days to a week.